Customer Reviews
01/25/2023
carli R.

United States
Amazing quality!
The sample package came with a variety of different types and sizes of different cups and lids and the quality was amazing! Will be using this for my shop!
11/17/2022
huda z.

United States
love the sampler
really good weill be ordering more
08/30/2022
Lara P.

United States
Fantastic Product
I recently found these awesome cups when I went for a barista/coffee class and was really wowed! They are definitely the new cup of my business. Sleek, pretty, edgy and excellent quality! Well done guys on an incredible product!!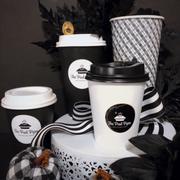 If you find a similar product with a better price somewhere else, send your invoice to our customer solutions team and we'll see what we can do!
Our paper coffee cups are made withFDA approved food-safe papercoated in a thin layer ofPE (Polyethylene). Our clear plastic cups are made fromPET (Polyethylene Terephthalate) and our plastic spoons and straws are made fromPP (Polypropylene). Our eco-friendly ice cream cups are made fromFDA approved food-safe papercoated in a thin layer ofPLA (Polylactic Acid). PLA is plastic made from corn starch. Our eco-friendly spoons are also made from PLA. Our eco-friendly wooden spoons are made from FDA approvedsmooth birch wood.